4
Min Read
Tyger Leader is reader-supported and may earn a commission when you book or purchase using our links. Learn more about our affiliate
disclaimer here.
Despite your visions of a mythical Yeti, Yeti is an outdoor adventure brand that specializes in ramblers, tumblers, and coolers.
They are most well-known for their travel mugs, and they are extremely popular. They have a wide variety of sizes, shapes, and colors to choose from.
Yeti products are made with the highest quality materials available. The company has been around since 2006, and they've become one of the top brands for camping gear.
Their cups are very durable and can be used outdoors or indoors. But are they dishwasher safe? Find out in this guide.
What Yeti Drinkware is There?
The Yeti brand offers several varieties of drinking vessels. You will find:
Travel Mugs
These are great for hiking, biking, fishing, and other outdoor activities. They come in many sizes, so you can easily carry them along wherever you go.
Tumblers
These are perfect for picnics, barbecues, tailgates, and more. They are also dishwasher safe, which makes cleaning up after your party much easier!
Coolers
These are ideal for keeping drinks cold on hot days. They are insulated, so your beverages stay chilled longer than regular ice packs would.
Cups
These are great for coffee, tea, juice, and other beverages. They are dishwasher safe, but not microwaveable.
How Do I Clean My Yeti Cup?
Cleaning your Yeti mug is easy. All you need to do is wipe it down with soap and water, then rinse thoroughly. If you want to use a cleaner, try using a mild detergent like Woolite.
Once it's dry, you should be good to go.
If you wish to put it in the dishwasher, simply lay it in there, away from other things, and wash.
Are Yeti Cups Dishwasher Safe?
Yes, Yeti cups, ramblers, and bottles are dishwasher safe. You can wash them in the dishwasher at high temperatures to clean and sterilize them, and they will be good as new.
It is unlikely that Yeti cups will get damaged in the dishwasher, as the material they are made from is heatproof and sturdy.
When you put your Yeti in the dishwasher, make sure to space it apart from other things to avoid damage, and do not use a lot of chemicals.
Additionally, it is recommended to remove the lid, and remove any detachable parts so they stay intact. Take care when removing it from the dishwasher, as they are insulated, so it will feel incredibly hot.
---
Can I Use My Yeti Cup at Home?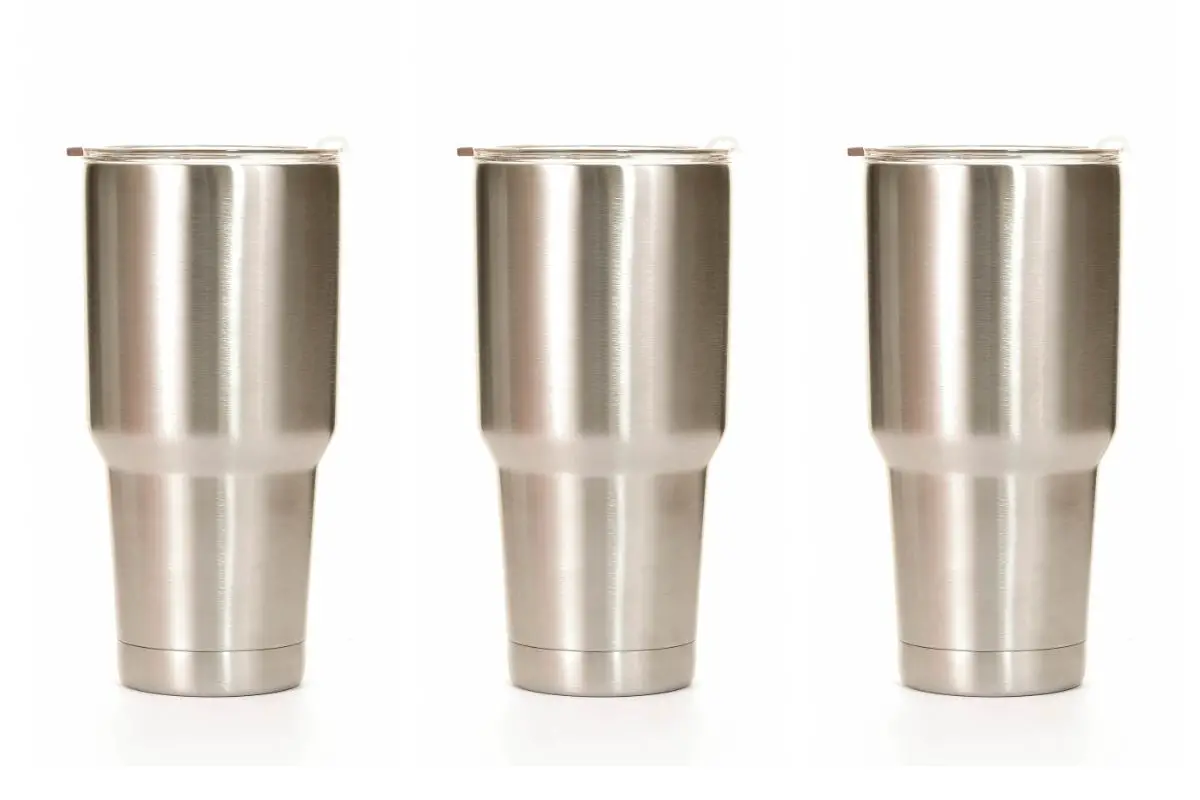 Tyger Leader is reader-supported and may earn a commission when you book or purchase using our links. Learn more about our affiliate disclaimer here.
Yes! While these cups aren't intended for indoor use, they are still perfectly fine for everyday use. Just make sure to keep them away from heat sources, as the metal will get hot.
Where Can I Buy My Yeti Mug?
You can purchase your Yeti mug online at Amazon, as well as on the original Yeti website. There are tons of options to choose from, including travel mugs, tumblers, and even cooler bags.
What are Yeti Cups Made Of?
Believe it or not, Yeti cups are not made out of aluminum.
Yeti cups, mugs, and ramblers are made from 18/8 stainless steel with double-wall vacuum insulation that ensures your liquid will stay hot for as long as twenty-four hours.
Are Yeti products safe?
Yes! In fact, the Yeti brand is considered one of the safest brands out there. They are all BPA free, lead free, phthalate free, and PVC free.
As we know, they are made from stainless steel, so there is nothing harmful in them. They are also heatproof and easy to clean.
Do Yeti Products Leak?
No – it is extremely unlikely for Yeti products to leak. Each of their products comes with a lifetime warranty against leaks.
This means that if you ever spill something on your mug, you can send it back to get replaced.
Additionally, Yeti products are made for those who may be camping for days, so a lot of design has gone into making these products completely leak-proof.
If your Yeti cup is leaking, it is likely that it has been damaged. You have warranty over leaks, so you can get it replaced if this happens.
What Size Yeti Mug Should I Order?
---
There isn't really a set standard when it comes to sizing, but we recommend ordering a large mug. It will fit more comfortably in your hands, and will hold enough liquid to last throughout the day.
How Do I Know What Size Yeti Mug Fits Me Best?
There's no point having a mug that is inconvenient to carry and hold. If you have small hands, you may want to consider getting a smaller mug.
However, if you have big hands, you might want to opt for a larger mug.
Can I Personalize My Yeti Mug?
Yes! You can add your name to the bottom of your mug, or write a special message on the side. This is ideal for keeping track of your mugs, and telling them apart from others' mugs.
What Temperature Liquid Can I Put in the Yeti?
It is recommended that you should not put liquid that is hotter than 185F inside the Yeti tumblers, bottles, and mugs.
This is because liquids pose a risk of burning you when you open the bottle. Their ramblers and bottles ensure that the liquid, along with the temperature, is locked inside.
When you open it, the liquid will be the same temperature as it was when you put it in. This is great, but you need to be careful with hot liquids for this reason.
Additionally, hot liquids should remain below the solid ring that connects the threads in their ramblers.
Why are Yetis So Popular?
Yetis are very convenient and practical. They are designed to keep your drinks hot/warm, and are perfect for those who like to travel.
They are popular with those who like adventures, as they know they can rely on Yeti products. The materials used to make them are durable, and they are very affordable.
They come in various sizes, which makes them versatile for any occasion.
Are Yeti Coolers Dishwasher Safe?
The Yeti brand has become synonymous with outdoor adventure gear. They are known for their high quality, durability, and style. Their line of coolers is no exception.
Yeti coolers are designed to withstand extreme conditions. They come with a lifetime warranty and are built to last. If you want to clean them after every use, they are dishwasher safe.
---
Final Thoughts
When purchasing Yeti products, you don't have to worry about whether they're going to break. They've got a reputation for being tough, reliable, and durable. Yeti cups are dishwasher safe, and they can withstand hot temperatures. Take care when putting your Yeti in the dishwasher.